Wakelet Legacy & Premium Plans
Wakelet - Legacy accounts, plans, and new features!
Read our blog and discover the new Wakelet plans, and what it means to have a Legacy account!
Wakelet is marking the beginning of a new chapter in our journey.

As the school year comes to a close, we're delighted to introduce a new phase of the platform - our premium plans. Wakelet has grown bigger than any of us imagined, and with millions of educators and students using the platform, we're committed to ensuring we can sustain and continue to build features that make an impact.
The new premium plans are designed to help new users to Wakelet have better choice over the scale of their Wakelet experience, and the scope of features they use. The plans start at an individual level, right up to entire districts, with a few distinct differences between them.
Wakelet Legacy Accounts
For people who have created a Wakelet account prior to July 4th, 2023, your experience will not significantly change, and you will still be able to access the same features you always have. You'll have what we now call a Legacy Account.
Making this important transition is something we've given a lot of thought to, and we are dedicated to ensuring Wakelet continues to be a sustainable platform that makes an impact across the world.
You can discover more about the new premium plans below - but in the meantime, we want to thank you so much for your support, your love, and your guidance over the years.
Wakelet's Plans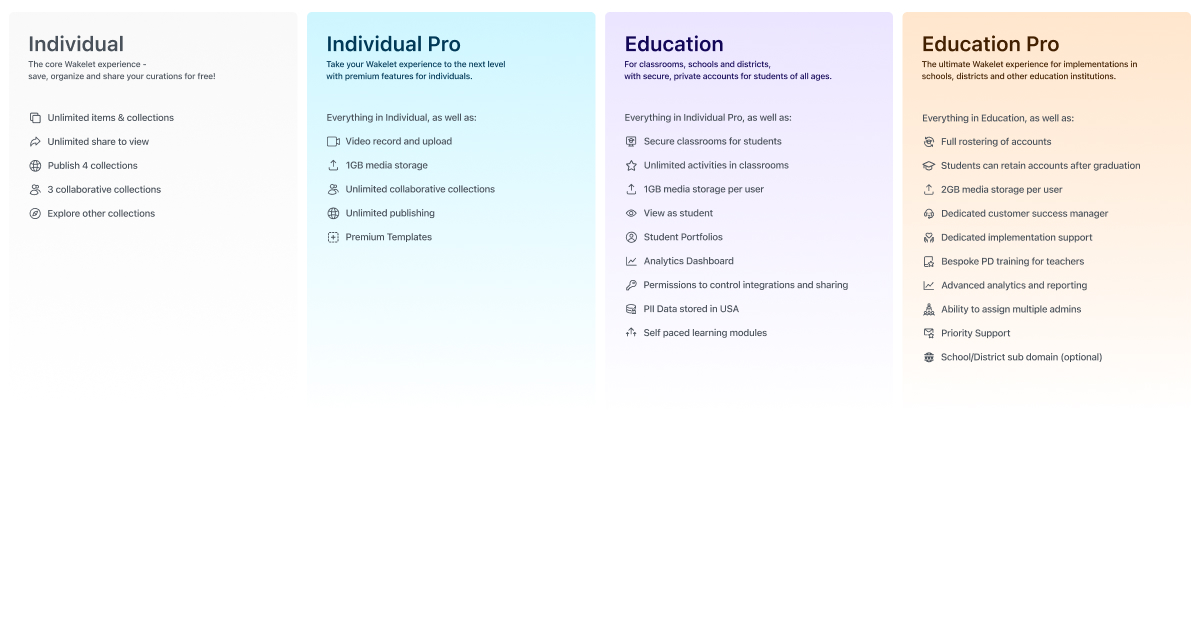 What are the new Premium Plans?
Wakelet Individual (Free): Your Wakelet journey starts here! You'll be able to create unlimited Wakelet collections, and share them with whoever you like! Take advantage of all our integrations, and make a start on building your inspiring Wakelet profile.
Wakelet Individual Pro: Take your Wakelet experience to the next level. Access full video upload, publish as many collections to your profile as you like, and create unlimited collaborative collections. Take advantage of our premium template library to take your creativity to new heights!
Wakelet Education: For classrooms, schools and districts, our Education Plan offers dynamic, safe and secure features for students and teachers. Secure Classrooms for students, digital portfolios, analytics, Activities and much more are included in this plan. Contact our district partnership team to find out more!
Wakelet Education Pro: The definitive Wakelet experience. Everything you get in our Education plan, plus customer support, bespoke PD & training, and student account retention. The features included in this plan make it the perfect option for schools and districts. Get in touch with our district partnership team to discover how impactful Wakelet can be across your district!
Wakelet Legacy: For everyone that has a Wakelet account prior to July 4 2023, we want to ensure you are not limited in the way you use Wakelet. No changes are being made to your Wakelet experience, and you will keep access to all of the features you use and love! Of course, you're able to upgrade to another plan at any time.
If you have any questions at all about the new changes, then don't hesitate to contact support@wakelet.com, or head to the help center.
The Wakelet journey continues - and the best is yet to come!