Wakelet's Monthly Roundup: October
October was a SUPER exciting month here at Wakelet HQ!

From feature launches and new partnerships to Halloween festivities, a lot has happened over the past month – and there's a real buzz around our offices! With so much news, it can be tricky to keep track of everything right? We thought it would be cool to take a moment to look back at October.
You know what that means…
IT'S ROUNDUP TIME!
Mood Board
What a start to October! The Mood Board layout was released on October 1st, and it's fair to say it went down a treat! We're delighted with the response this feature received from the Wakelet community. Mood Board offers a versatile way of arranging your Wakelet collections so they not only look really good, they're also a lot of fun to make! Give it a try on one of your collections now!
Digital Citizenship Week (Oct 14th- 18th)
Everybody at Wakelet really enjoyed Digital Citizenship Week! We learned so much from our community throughout the week, and discovered things we never knew about the subject. Our community created super helpful and informative resources to share with each other! How cool is that?!
Check out this Wakelet collection by Mrs Buchanan – she gives some great tips for resources for digital citizenship!
We also hosted a Digital Citizenship webinar! @MisbahGedal, @mbfxc, @m_drez and @deannpoleon had a really interesting chat about how digital citizenship connects to curation. You can watch the webinar in full right here!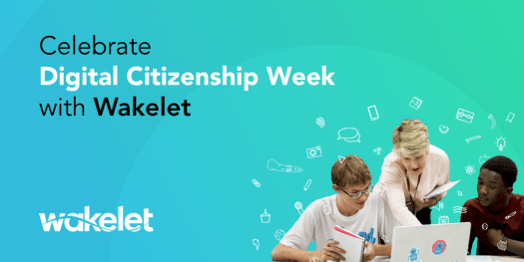 Partnership with Merge
We LOVE VR! We're delighted to say that on October 21st we announced our partnership with Merge – we think it's awesome to bring VR into the classroom. Take a look at Merge's Wakelet profile here to see how the magic of mixed reality can be brought into the classroom! There are some really amazing ideas here – it's well worth a look!
Read Mode
We can't get enough of Read Mode here at Wakelet! It makes your collections more inclusive and accessible than ever before!
Read Mode allows you to read entire articles, without having to leave Wakelet! It's fully compatible with Microsoft's Immersive Reader – so Read Mode can engage every one of your students, including those who may feel a little daunted by reading! We think this is AWESOME!
The #WakeletWave is growing!
Last, but by no means least, is the new wave of Wakelet Ambassadors! On October 30th we announced the 11th batch of Ambassadors, so watch out for them on Twitter as they help spread some Wakelet love!
If you haven't already joined our community, what are you waiting for?! Join here!
WOW! What a month it has been!
Next up – an EPIC November!