Triple Appsmash Madness: Collaborative Discussion Among Students with Wakelet, Buncee, and Flipgrid
Discover Samantha's fantastic ideas for appsmashing Buncee, Fllipgrid & Wakelet!
By Samantha J Shaffner
I believe building learning systems for students to learn and grow takes careful consideration and research. It is a well-known fact that students thrive when they are the center of their own learning and thus take ownership and pride in their work. With that said, appealing to multiple learning styles with consideration to the delivery and formative assessment or interactive elements in any lesson proves to be a meaningful and equitable way to deliver instruction to our students regardless of the learning landscape. We are challenged as educators to research and try new practices that appeal to a wide range of students. This creative process then is vital because student success is directly connected to how accessible, individualized, and relevant content and activities are to the students.
Wakelet Collaboration has been a go-to practice and tool for me as an educator for a number of years. Using Wakelet as a means to organize and disseminate content supercharges student/teacher collaboration and also saves us time while making student activities learner-centered and more engaging. After all, they are the ones who are learning and engaging in this world and they are counting on us to lead them into situations where they are practicing practical and useful 21st-century skills like collaboration, creativity, critical thinking, curation, and communication of course.
In this blog I am going to share an easy and reproducible way to introduce opportunities for students to practice important communication, collaboration, critical thinking and creativity skills even while they too might be stuck at home for now.
Wakelet, when used in tandem with Buncee and Flipgrid, enabled me to create an engaging activity that not only fostered important class discussion but also served as a means to introduce my students to new technology and differentiated options for interacting and engaging with their school work!
In this Wakelet collection my ELA class engaged in an online class discussion, guided by their teacher, while using a formal yet controlled social media platform! Collection linked here!
As you can see. . .this approach to meaningful class discussion allows for teachers and students alike to have some choice in the way they learn and express themselves etc. Students interact with the materials and complete the assignments by following the teacher instructions and using the resources included in the Wake. Within this activity students are prompted to respond to the teacher created discussion questions in a Q and A social media discussion format.
This interaction and collaboration push students to engage in critical thinking and communication/collaboration as they are tasked with selecting the questions they want to answer and choosing the tools and methods they use to answer the questions while keeping the Twitter chat theme of casual Q and A with peers at the core of the discussion (Flipgrid video, typed response, etc.).
Using a Q/A style format shown supports student growth as students become contributing members of their chosen learning communities…
The above image illustrates how activity is designed to allow students to actually choose the questions and interaction types they interact with in a virtual class discussion about academic content, this time, literature. Students interact with teacher curated resources and respond using whatever device they have access to: Chromebooks, Android phones, Apple phones, Windows, MacOS etc.
This serves as a creative formative assessment for any subject or class. Teachers can use rubrics and grading methods of their choice and include that information within the Wake using a Buncee image or even a text box or video. This is empowering to both students and their teachers alike because it encourages collaboration, diversity, and independence within student learning experiences in remote/hybrid learning settings.
In this blog I will teach you how to plan and facilitate an activity like this simulated Twitter chat!
For best results, expose students to the content / questions before the chat and let them bring their notes along for support! This is a guided chat and a learning experience for all.
About creating the activity: I have one word– Appsmash! 'Appsmashing' is when you combine the features of different EdTech applications in one lesson or activity. This Triple Appsmash learning activity came to life with the use of a few vital learning tools. First, I created engaging multi-media content with Buncee, then embedded it into a collaborative Wakelet collection for my students to engage with in real time.
Wakelet makes it easy to share your resources in the collection itself so students can save time and streamline the collaboration and creation processes. After working within the collection to find what they need to have a successful discussion, students are ready to respond with their content!
Flipgrid comes into play when students begin to add their contributions in Flipgrid shorts videos or text responses and can choose a format they feel most comfortable with.
App 1: Buncee to create engaging content!
Buncee, a multimedia presentation (Google Classroom App) tool that seamlessly integrates into Wakelet. Using Buncee's templates, images, and stickers, along with my personal Bitmoji (virtual classroom images) made the experience fun and personalized for my students. To learn more, check out my friend Deb Zehmen's blog all about it!
App 2: Wakelet to collaborate, integrate, and share student work!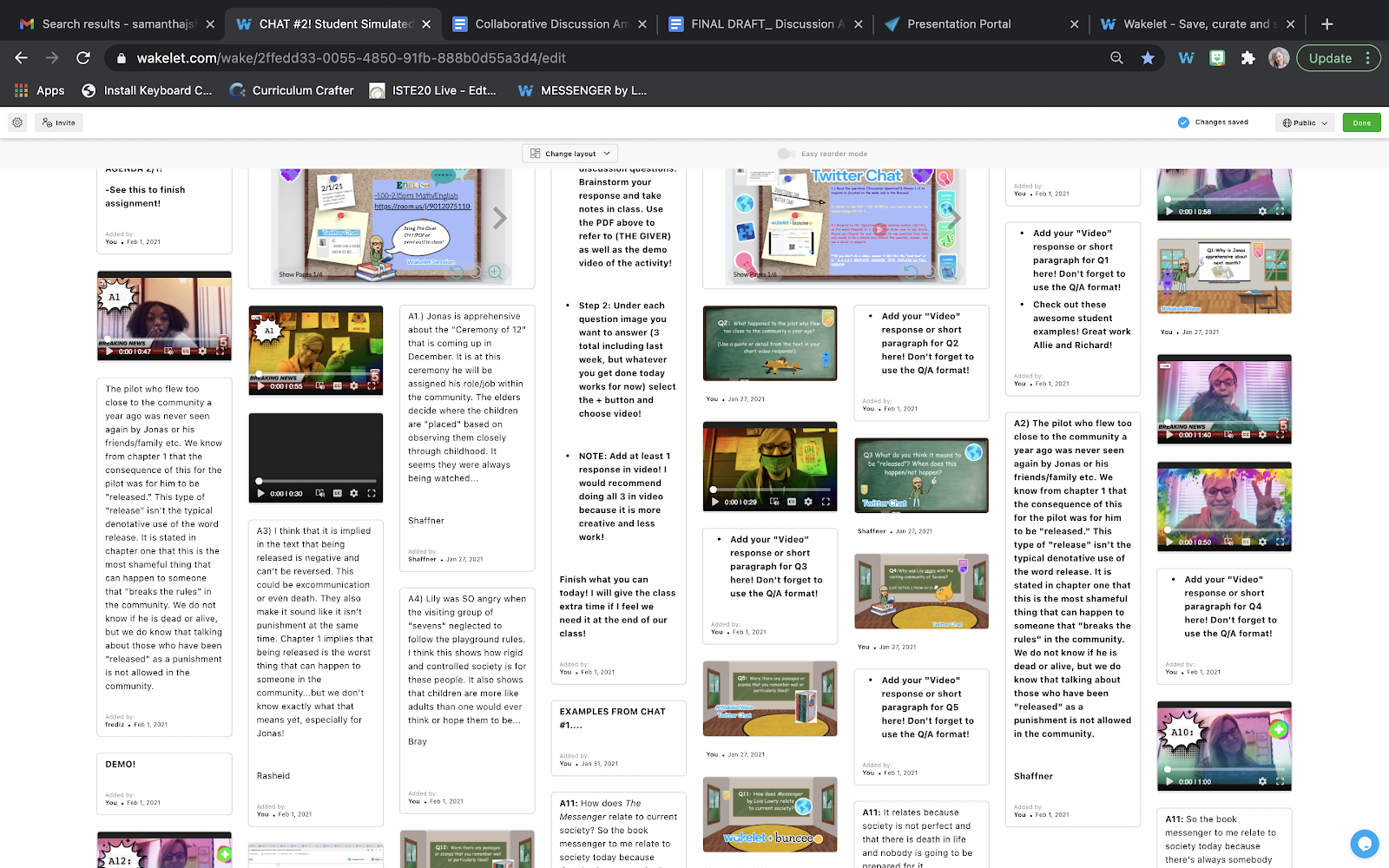 Wakelet itself allows the students to collaborate by adding their own multimedia responses/contributions to the Wake containing the materials created by the teacher to facilitate the student lead discussion. Wakelet is an amazing tool as it serves to be a multiple-use/multiple skill-level adaptable learning creation tool and organizational app for users of all ages.
Wakelet encourages this by integrating content from other apps to be added to student work collections.
Where do we "Smash" these "apps"? On Wakelet!
This is awesome because it is also where students engage with the content, interact with resources, and collaborate with one another. At the end of the process they can share their/our collaborative work as an authentic product to a real audience, which is a 21st century skill that is important to all new age learners to become comfortable with!
App 3: Flipgrid to create multimedia content and engage students in oral formative assessments!
As a teacher, be sure to use this tool as a means to share "how-to" videos and resources to encourage students to record videos and provide modeling of the process through teacher examples. By using Flipgrid to respond to questions with video responses, or audio recordings (depending on student preference, ability levels and comfortability with the technology) many students thrive without the pressure of constructing written responses.
These three amazing Google Classroom Apps integrate seamlessly together on Wakelet! They can be easily shared and reproduced as collections are meant to be shared out and celebrated on various social media platforms!
Steps for Simulated Twitter Chat Activity…
STEP 1: Create your slides on Buncee. Add audio and detail to support your learners and content. Label your questions Q1, Q2, Q3, etc. Include instructions and embed the Buncee link as well as the images of each slide into the wake.
STEP 2: Create a class "wake" and share it with your students! Wakelet makes the process easy by allowing integration of other education apps in one place, individual "Wakes."
You can do this by selecting "manage contributors" to locate the unique collaborator code/link/QR to share with your students so they can interact with the assignment and create videos/written pieces.
STEP 3: Add needed resources and directions to the wake and place the items in the order you want students to see them in. For instance, a PDF of the story we were answering questions from, Messenger, is provided for students to include quotes in their written and video responses to the book chat questions. Wakelet allows multiple resources to be shared within one page and URL so students can save time and confusion and focus on the task at hand!
STEP 4: Teachers simply share the link to the Wakelet collection in as many ways as you can on as many platforms as you can to the students. Students can respond from Chromebooks, Android phones, Apple phones, Windows, MacOS and other platforms by creating video responses. Wakelet collections or "wakes" are optimized to be easily shared to the popular Learning Management System (LMS) Google Classroom or any LMS where a link can be shared or embedded. Teachers simply share the link to the Wakelet collection in as many ways as you can on as many platforms as you can to the students.
Tips for Implementing in the Classroom
Present students with more than written questions, use videos and gifs and audio and screencasts to engage students working from home.
Allow flexibility by allowing students to choose the number of prompts they can respond to for credit.
Differentiate the assignment per student and class needs. Post your own responses in each format offered to students so they have the opportunity to choose what works best for them.
Encourage students to engage with the discussion using more than one type of multimedia so they gain exposure and skills in different areas.
Use apps like Buncee to make your project come to life as well as more accessible and aesthetically pleasing to student users. Buncee also offers amazing pre-made templates that you can "make your own" and then modify as needed for activities.
Include a background image in the collection! Stick to your main themes and use resources that align with the ideas and concepts presented.
Provide students with video demonstrations or screencasts in case they are accessing the activity remotely or asynchronous and need additional support to supplement that fact.
Scaffold and help students out by working with them on their answers individually. You can help your students with their responses as little or as much as is needed to foster engagement and discussion.
Organize your Flipgrid response assignments in Wakelet spaces and build a collection of them over time to reflect on learning with students!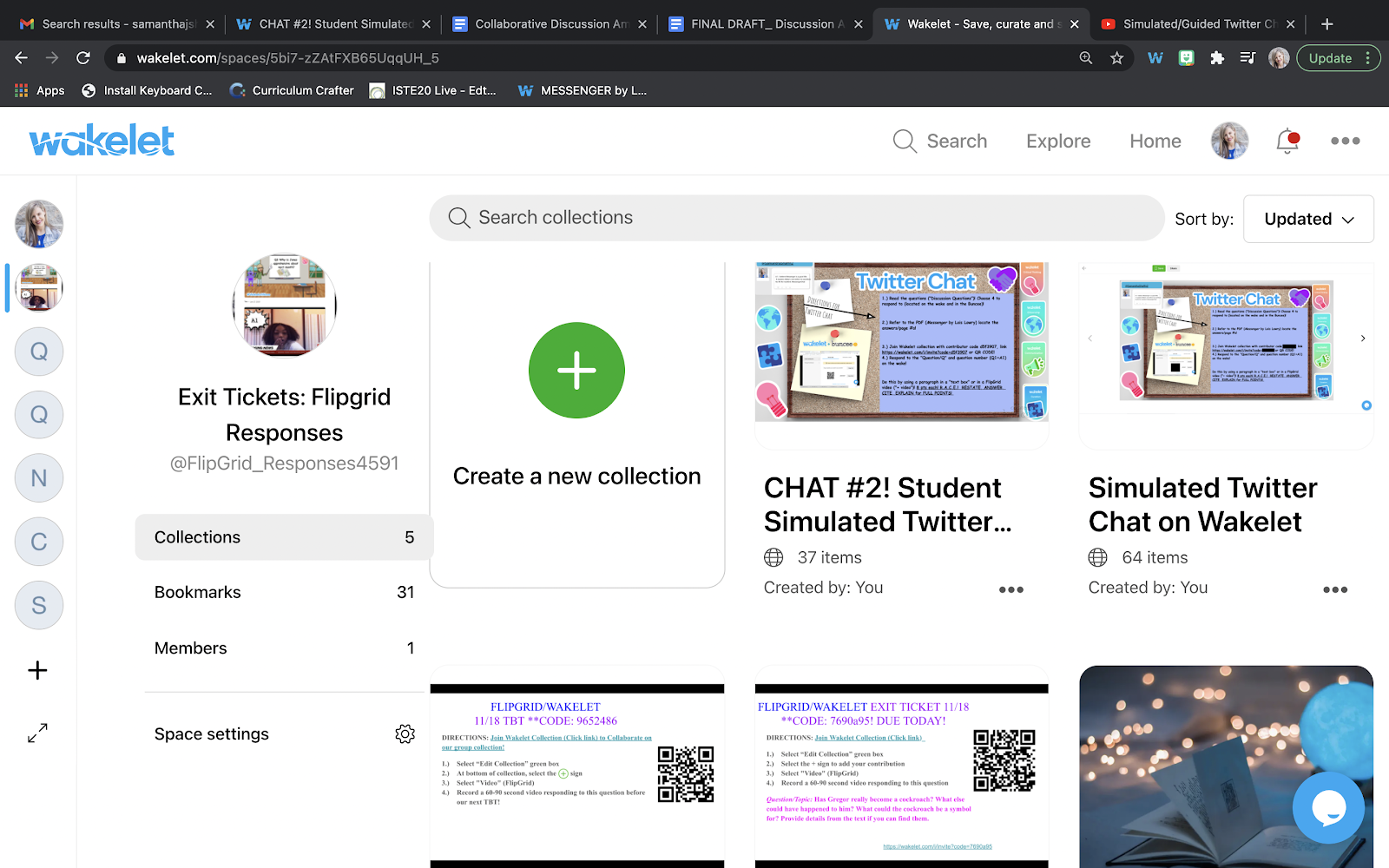 Wakelet "Space" for Flipgrid Exit Tickets! ELA 9/10
It is also important to remember to add examples to model process and quality, etc. Guide students through the process as they are locating answers and interacting with the materials.
Show students how to add items to collections with text!
Model embedding various types of multimedia into a collection for your students!
Take-aways…
This epic appsmash provides students with voice and choice. We must to remain consistent and vigilant with differentiation methods/choice of learning tools as well as offering students the opportunity to respond orally to content related assessment items. Encouraging students to try different social media platforms according to their personal interests helps them to grow emotionally into responsible digital citizens and communicators.
Bio: Bio: Samantha Shaffner is a high school administrator at Central High School, a Dropout Prevention and Recovery (DRP) high school in Columbus, OH. An award-winning ELA teacher, Samantha has 14 years experience in the classroom as an ELA teacher and blended learning expert. She has served as a curriculum designer, content creator, blended learning coordinator, district testing coordinator, and academic coach. For years, Samantha has advocated for effective remote learning and for student access to the technology they need to succeed in all learning spaces. Samantha also serves as a Wakelet Community Member, Leader, Ambassador, as well as serves as a Buncee Ambassador!
Connect with Samantha on Twitter: @SamanthaShaffn2
Connect with Samantha on Wakelet @SamanthaShaffner9061
Additional Resources:
Students Using Wakelet Collaboration to Share Writing