Major New Update to Wakelet Classrooms!
When we released our Classrooms feature last year, we knew that it would be a game-changer for educators across the world. We created Classrooms as a place where you can import and create student accounts, set up different classrooms, and share collections of resources with students. As you started to use it, you shared your feedback with us, and we were stunned at the level of creativity and innovation you applied to the feature.
One of the biggest changes you'll notice right away is that students now have the same home area view as you, their teacher, rather than two different views. This makes it easier for students to find what they need and for teachers to keep track of their students' progress.

We've also made some major improvements to the home interface for students. The new library has better accessibility standards and is easier to navigate via keyboard. Plus, students can now see all collections created by the classes they have been a member of, even if that class has been deactivated. This means they can continue to access and learn from the resources that you lovingly provided!
On both the student and teacher side, we've made it much easier to distinguish between collections created by the teacher and those created by students. This will reduce confusion around who owns the collection, making it much easier to find what you're looking for.

The updates don't stop there! We know you've been loving our activities, so we've made some key improvements. We've merged activities and collections, keeping the core behavior of using Wakelet centered around the collection, rather than having two separate areas to access. This reduces clicks and makes things much clearer for both you and your students. Plus, you can now see the status of the activity on the cover of the collection, whether it's not started, started, in review, or complete!
The new classrooms interface has been made much easier to navigate around.
We've made some changes to help reduce the number of clicks it takes to get from place to another. For example, Activities are now in the same area as collections, with a clear "Activities" label on them. This is so that you and your students won't need to jump from one section of the site to another to access them. The label will also show you how many students have completed the activity – meaning you can see how it's doing at a glance!
Activities are now created inside a collection rather than a separate area – minimizing admin and helping you turn any collection into an Activity within seconds. You'll also find all of your students listed in the students tab, whilst inside an activity – allowing you to quickly view all of their work by clicking on their name.
In this update we focused on making student work much easier to view and access – for both you and your learners. We'll be making more key enhancements to this area soon!
And when it comes to accessibility, it's always been a top priority for us, and we're happy to say that this update continues to build on our efforts so far. Accessibility is something that needs to be baked into the platform from the ground up – and we'd like to thank those amazing people in our community who continue to advise us, guide us, and hold us accountable when it comes to building features that everyone can use.
As well as the above, you'll find a host of general improvements to Classrooms, including but not limited to :
Reduced load speeds of 70% – better performance all around!
Improved layout of area – Classrooms is now accessed via the drop down main menu
Ability to add and edit the classroom profile image
Ability to sort content in classrooms from A-Z
It's important for us to say that we're not done yet. When it comes to creating the ultimate teaching and learning environment for you and your students, we're just getting started. We're busy working on additional functionality that will continue to enhance Wakelet and improve experiences for educators and students across the platform.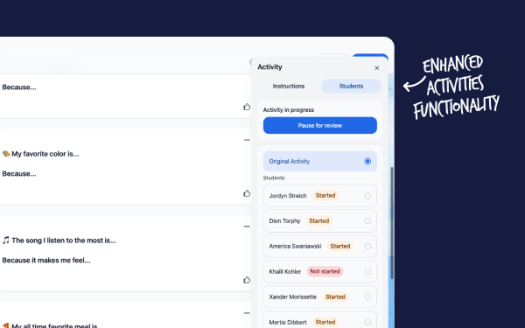 A huge thank you to this Community for continuing to inspire us to push the limits of the platform, and uncover new ways we can help you and your students achieve amazing things. Stay tuned for upcoming news and updates – who knows what's around the corner!